Watch trees literally revive with just a few simple steps.  Originally, the owners of the tree in these photos, thought they would have to cut down the tree and lose their investment in that tree.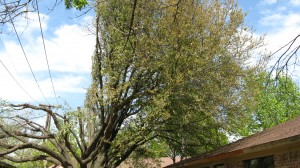 The before pictures, taken March 31 shows the tree lifeless, dry and in stress.
After just 4 months of treatment using our special organic  formula, the tree was able to be rejuvenated and is thriving, notice how much more green and vibrant the leaves are on this tree in Grapevine, Texas.
Using a proprietary all organic formula, the trees stress was alleviated, the roots were stimulated, and the proper nutrients make the tree look like a completely different one.
The owners saved hundreds of dollars alone just by not having to cut the tree down, increased shade around their house, decreased utility bills and of course a healthier city in Tarrant county.